Convert and edit POIs files easily
Lufop | 8 January 2017
Just for information case you need to convert POis files from one format to anoter you can do it easily on this website just using upload / download :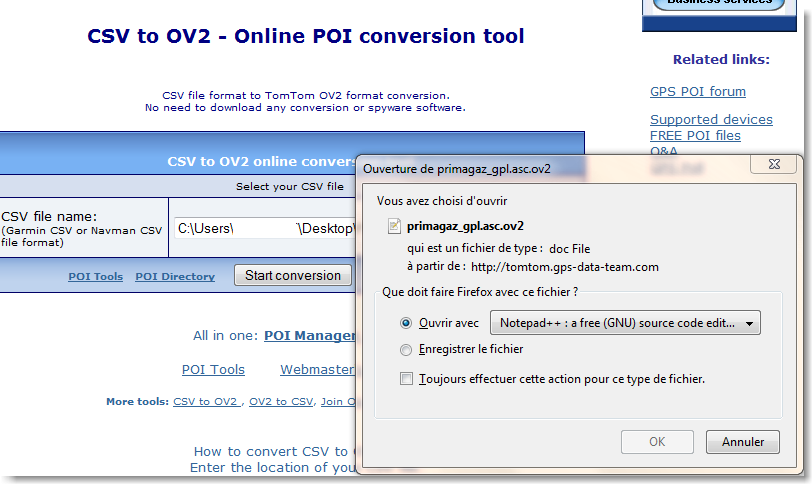 Link : http://www.gps-data-team.com/convert.php
This is the list of the conversion available :
Files OV2 TOMTOMConvert OV2 to KML

Convert OV2 to CSV
Convert OV2 to LMX
Convert OV2 to GPX





Files CSV
Convert CSV to OV2

Convert CSV to GPX
Convert CSV to LMX
Convert CSV to KML
Convert ASC to GPX
Files GPX for Garmin
Convert GPX to OV2

Convert GPX to CSV
Convert GPX to LMX
Convert GPX to KML
Convert GPX to ASC
Files LMX for Nokia

Convert LMX to GPX
Convert LMX to OV2
Convert LMX to KML
Convert LMX to CSV
Convert LMX to CSV
Files KML and KMZ

Convert KMZ to KML
Convert KML to CSV
Convert KML to GPX
Convert KML to OV2
Convert KML to LMX
Convert KMZ to GPX
Convert KMZ to OV2
Files EST for Microsoft Streets and Trips
Convert EST to CSV
Convert EST to GPX
Convert EST to OV2
Convert EST to LMX
Files GPI for Garmin's POI Loader
Convert GPI to CSV

Convert GPI to GPX
Convert GPI to OV2
Convert GPI to KML
Convert GPI to LMX
Si cet article vous a intéressé n'hésitez pas à
vous abonner aux flux par RSS,
directement

par eMail ou suivez-moi sur twitter @Lufop
Le site vous est utile? Soutenez le site lufop.net :

Auccun support n'est fait via les commentaires que vous postez ici. Si vous avez des questions ou un problème utilisez le forum, il est là pour ça.